Thai Buddhist Amulet = Thai Buddhist, Occult, Animist and Khmer Sorcery charms
Wila Ta Paetch Kwak Sap Maha Lap 1.5 x 2 Inches - Wealth Calling Cat Gemstone Eyes Mini Bucha - Takrut, Look Krok Maew, Rok Maew, Prai Kumarn Powder + Chin Aathan - Pra Ajarn Supasit Wat Bang Nam Chon
The Gemstone Eyed Cat Waves to call Fortune, Customers Money and treasures in, and is emmpowered using the Highest Invocations of Prai Sorcery using the sacred Prai Powders of the Loo Krok Maew (stillborn cat), Prai Kumarn Powders (Kumarn Bone Powder), Pong Rok Maew (powdered Cats Umbilical Cords), and a piece of Chin Aathan from a Prai Ghost, to Intensify the Power of the Magic with the Immense Power than Only Chin Aathan can offer to top the Powerful Prai Powders.
A Takrut Choke Lap for Good Luck and Fortunes will increase chances of hitting Winning Lottery Numbers and Lucky Breaks. Prai Wila cat is a very good adversary against Black Magic, and Klaew Klaad protection from Accidents.
Size; 1.5 Inches Wide x 2 Inches High
Made in very small numbers by Pra Ajarn Supasit, whose amulets are always made in small numbers and high quality authentic Sorcerous Ingredients, and have a very select following from a small number of Devotees in the Know, who are aware of the High Powered Effects of his Sorcery.
Comes inside Red Pouch
Use the same methods of Prayer and Offerings as for Kumarn Tong, Mae Takian, Hun Payont and other Prai Devas to bring into the Home, with the additional adaptation of offering a saucer of Milk, or red drink to the Prai Wila as food. In addition you can offer fish. Light 5 Incense sticks to the Prai Wila when making offerings.
Kata Hua Jai Pluk Prai Wila
(for chanting silently to call the Prai Wila to you)
Su Si Su Sang
Kata Bucha Prai Wila Ta Paetch (for offering food)

'Mang Bpa Thu Ya Jao (say the Name you have given to the cat) - Maa Riib Pochanaa Bpiyang Ma Ma'
Kata and Bucha method for Hun Payont, Animist, or Mae Prai, Mae Takian Deities
Kata and Bucha method for Kuman Tong and other Prai Deities
The Prai Wila Ta Paetch sits upon a traditional Chinese Gold Ingot, with the Khom Kata 'Na Ma Pa Ta' inscribed, to invoke the 4 Elements for the reanimation of the Spirit of the Prai Wila Lucky Cat of Wealth and Fortune.
The Wila Ta Paetch is an excellent Mini Bucha for the Shop or Place of Business, your Market Stall, or the car dashboard of a Travelling Salesperson. It is quite large, so is intended as a Bucha Statuette, but can also be encased and worn if wished. Excellent for Business and Gambling, attracting Wealth and Treasures.
Magical Properties; Maha Lap (Lucky Wins), Kaa Khaay (Good Business), Pokasap (Treasures accumulation), Gae Aathan (Anti Black Magic and Demons), Klaew Klaad (Evade Certain Death).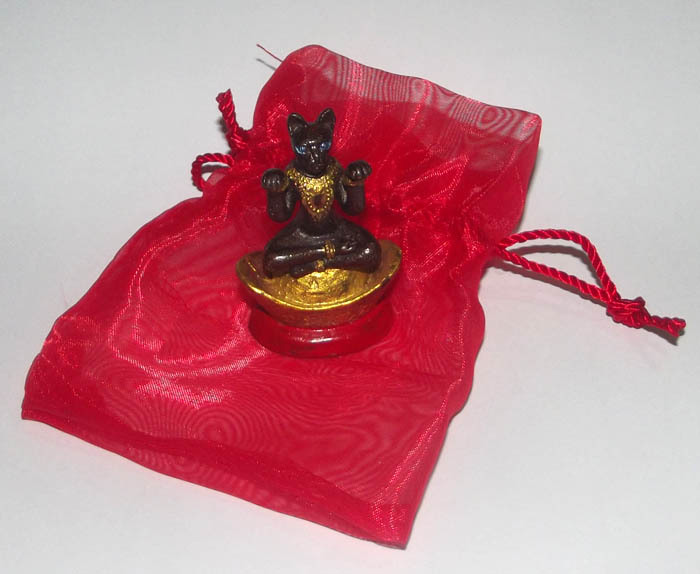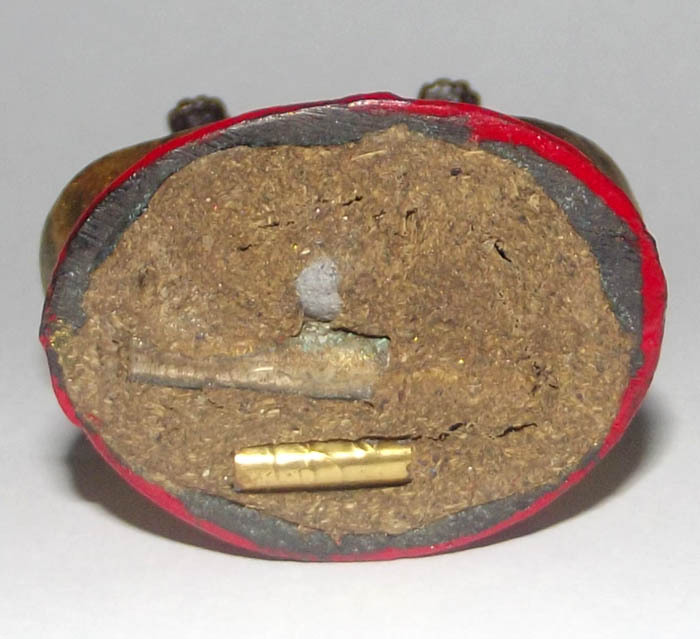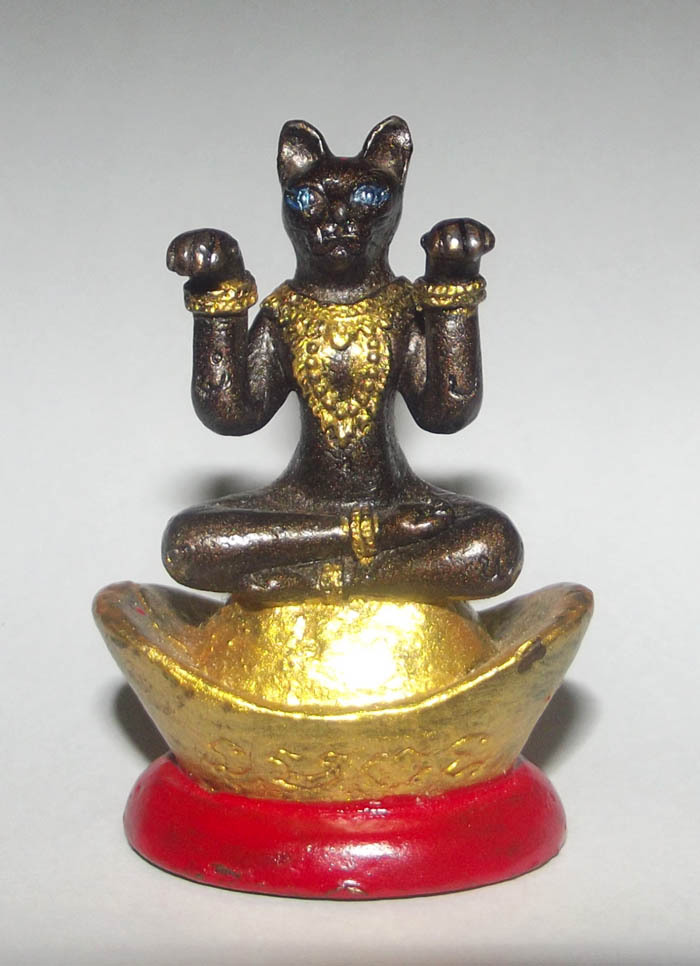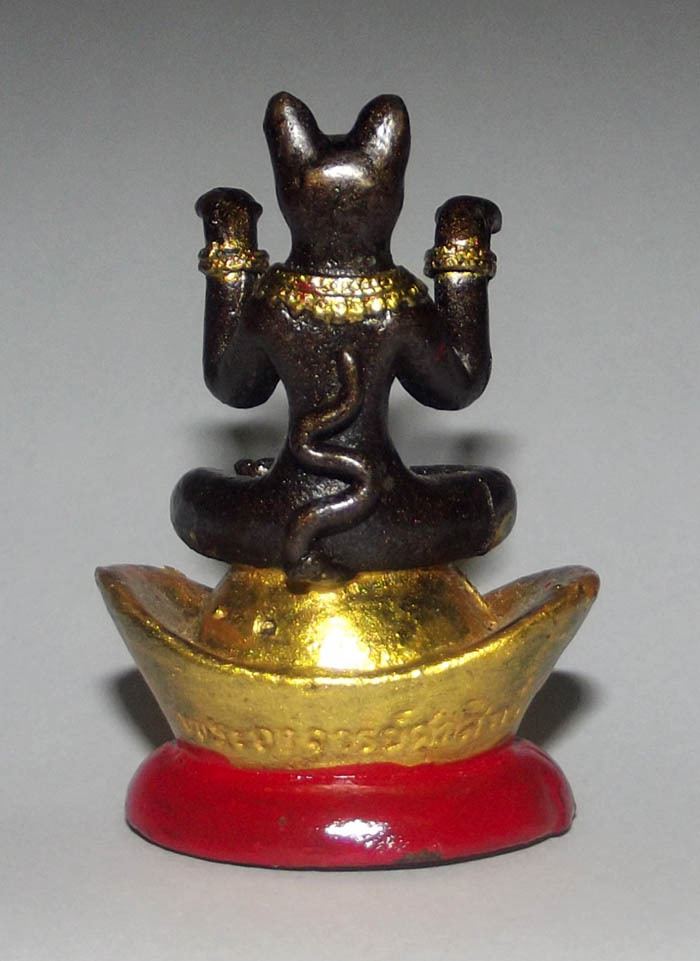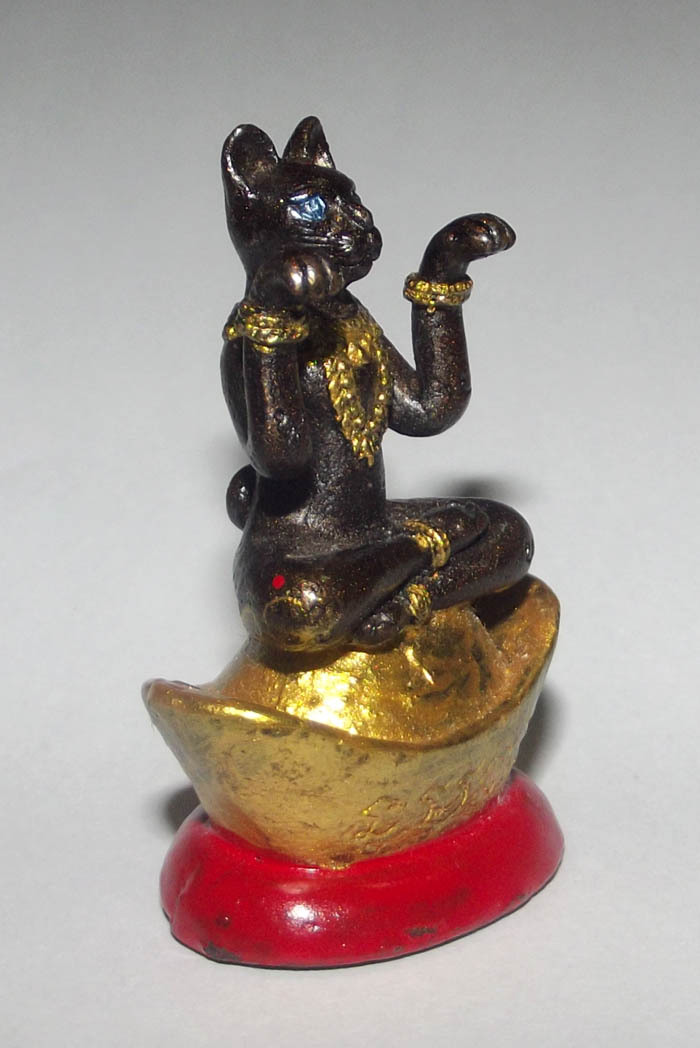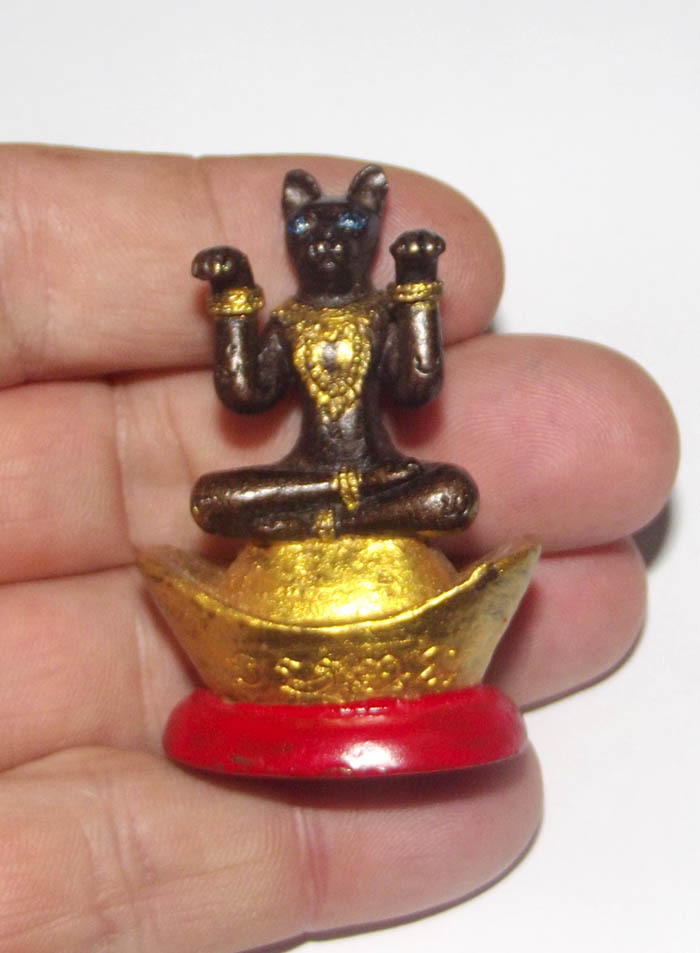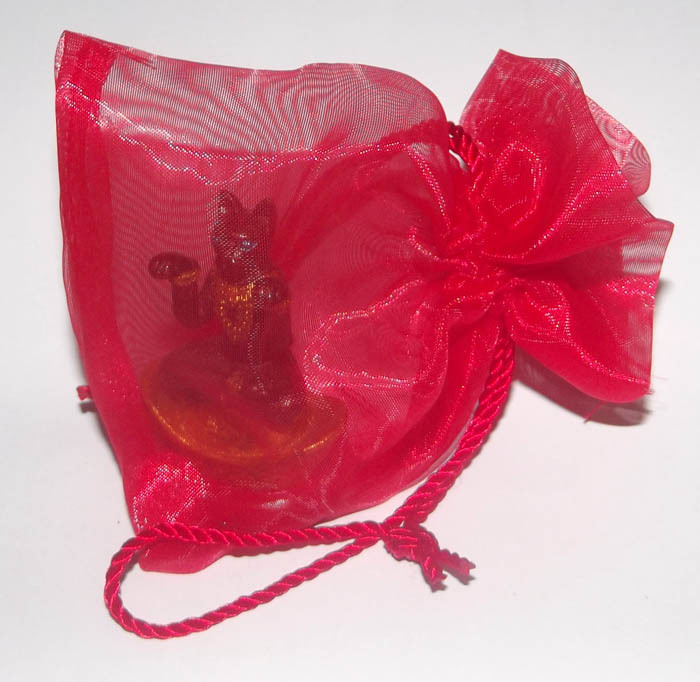 Thai Buddhist Amulet – Authentic Thai Buddhist Amulets