Thai Buddhist Amulet = Thai Buddhist, Occult, Animist and Khmer Sorcery charms
Mae Nang Jing Jork Gao Hang (Nine Tails Fox) Jumbo Size Gambling & Seduction Locket in Gold Plated Casing - Kroo Ba Kampeng
This jumbo size locket features the image of the animist female deity named Mae Nang Jing Jork Gao Hang, also known as the Nine Tailed Fox Lady. It is a most powerful gambling and seduction locket made by Kroo Ba Beng of Asrom Sukhawadee. The amulet is made from special powders, and has Takrut, Enchanted Gambling Dice, a phial of Prai Oil, Blessed Ploi Sek Gems, an In Koo and a Sariga bird amulet inserted in the rear side of the locket.
However, each locket has different items inserted; some lockets may have dice in it, whereas others have green jade inserted. The lockets that are attributed with enchanted dice serve to turn the odds in one's favor. Obviously, the dice represent the powerful magical aspects for gambling and lottery. Yet the green gems have stronger pokasap magic that will bring treasured possessions. This model is with the dice for Gamblers preference.

But, of course, both the enchanted dice as well as the sacred gems have powerful qualities to increase one's wealth and riches. In fact, the potential effects of the pokasap powers solely depends on the purpose for which the wearer decides to use the help and assistance of the Nine Tailed Fox Lady.
Kroo Ba Kampeng used a special mix of sacred powders to make this locket extra powerful. This mixture contains high quantities of prai bone powders and oils, thereby enhancing the magical powers of this extraordinary amulet. Hence, the Mae Nang Jing Jork Gao Hang jumbo size locket can be used for increasing one's wealth and prosperity through gambling or lottery wins. Also, due to the charming beauty of the Nine Tailed Fox Lady deity, the locket is ideal for using its magical powers as a highly effective seduction charm.
As a identification mark and a sign of authenticity, each locket has its unique edition number painted on the front face of the tail of the  Jumbo Ongk Kroo versions of the Mae Nang Jing Jork Gao Hang lockets. This serves as a quick and easy way to distinguish between an authentic amulet a fake reproduction. All Jumbo Ongk Kroo amulets have the code number painted.
The smaller Pim Lek standard size lockets however,  do not have numbers on them though, but any large size Jumbo lockets MUST have the code number painted on front face.
The smaller siize lockets have no dice, Sariga bird prai oils, 8 Takrut, and 2 Ploi Sek blessed pokasap gemstones.

Below; smaller Pim Lek standard version locket, also available in our store.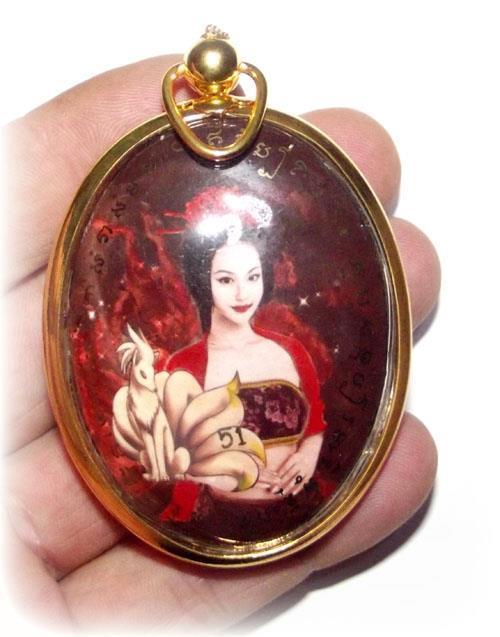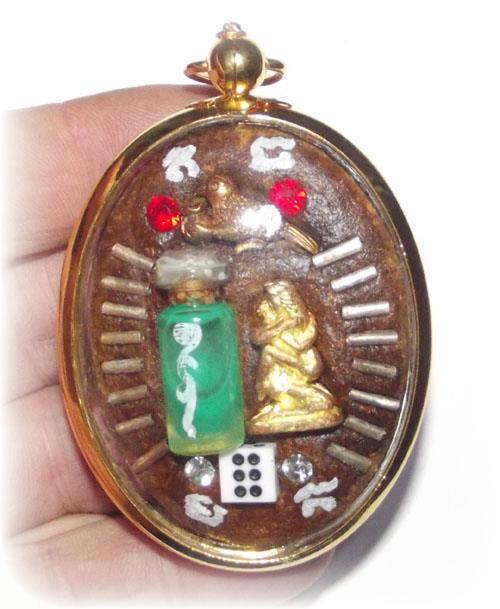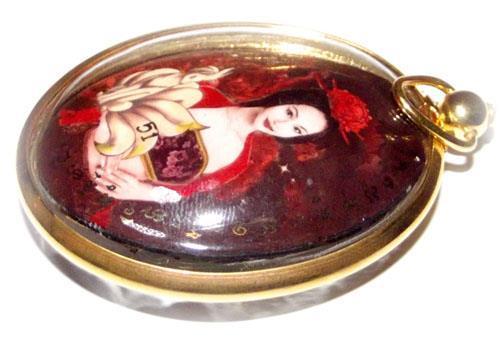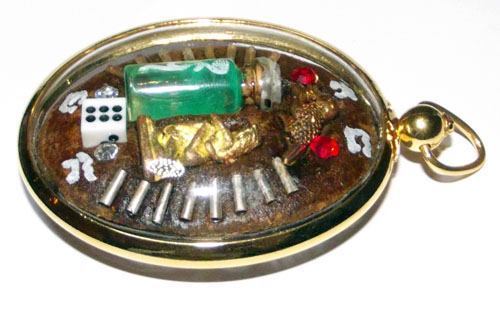 Thai Buddhist Amulet – Authentic Thai Buddhist Amulets